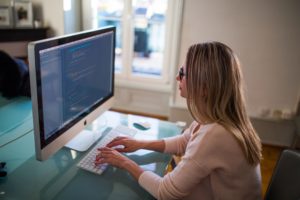 Our live online classes provide an accessible and varied way to learn mindfulness practices for those people who cannot attend in-person sessions. Learn mindfulness on your computer at home or work, or on your tablet or smartphone. We offer the following courses:
Mindfulness 365
In 1-hour sessions over nine weeks, students learn practical mindfulness techniques from the comfort of their homes or workplaces. Mindfulness 365 focuses on cultivating mindfulness in daily life. Through live mindfulness practice sessions, didactic lecture, and group chat with the instructor, participants learn how to incorporate mindfulness into every sphere of their lives. Learn more here.
Live Weekly Meditation Sessions
Join Bill Scheinman for live online meditation sessions from the comfort of your home or office computer, or even while traveling on your tablet or phone. Each session is 30 minutes long and includes a brief period at the end of the meditation for people to share and ask questions about the practice. Learn more here.
Mindfulness Coaching
Whether you are new to mindfulness practice or are an established meditator with a desire to go deeper, Bill can provide a focused framework to help you develop your practice. Sessions are customized according to each client's needs. Learn more here.